The Tribe's 37th Annual Thanksgiving Outreach gave 15,000 turkeys to 115 nonprofit organizations to provide holiday meals to families, seniors and veterans in need.
MORONGO INDIAN RESERVATION – The Morongo Band of Mission Indians gave away 15,000 free turkeys this week to non-profit groups, churches and charities across the Inland Empire and Southern California as part of its 37th Annual Thanksgiving Outreach program.
The turkeys donated this year will provide nearly 300,000 holiday meals to families, seniors and veterans in need from the Coachella Valley to Los Angeles. Over the course of the program's history, Morongo has given away almost 200,000 turkeys, which have helped provide an estimated 3.8 million holiday meals.
"Morongo is a giving tribe, and our annual Thanksgiving Outreach program is a reflection of our tribe's core values to help others," said Morongo Tribal Chairman Charles Martin. "These are challenging times, and we are committed to supporting those in our communities who are struggling so that they can enjoy the holiday with friends and loved ones."
Tribal members and volunteers gathered at the Morongo Community Center for three days starting on Nov. 13 to distribute the 15,000 Thanksgiving turkeys to 115 nonprofit organizations, including food pantries, churches, senior centers, schools and veteran groups from across Southern California. Groups receiving turkeys hailed from Banning, Beaumont, Riverside, San Bernardino, Moreno Valley, Temecula, Desert Hot Springs, Indio, Redlands, Los Angeles, and other communities.
The groups will use the turkeys to provide hot holiday meals to those in need or will distribute the birds in holiday meal gift baskets with additional side dishes to help feed thousands of people who otherwise would not have been able to enjoy a Thanksgiving dinner this year.
The Janet Goeske Foundation in Riverside received 200 turkeys to help feed senior citizens this holiday.
"Morongo's gift of 300 free holiday turkeys is a blessing that exemplifies the Tribe's dedication to the community," said Dana Johnson, Director of Family Services of The Desert in Desert Hot Springs. "Thanks to Morongo's generosity, our organization can help those in need experience the warmth and togetherness of the holiday."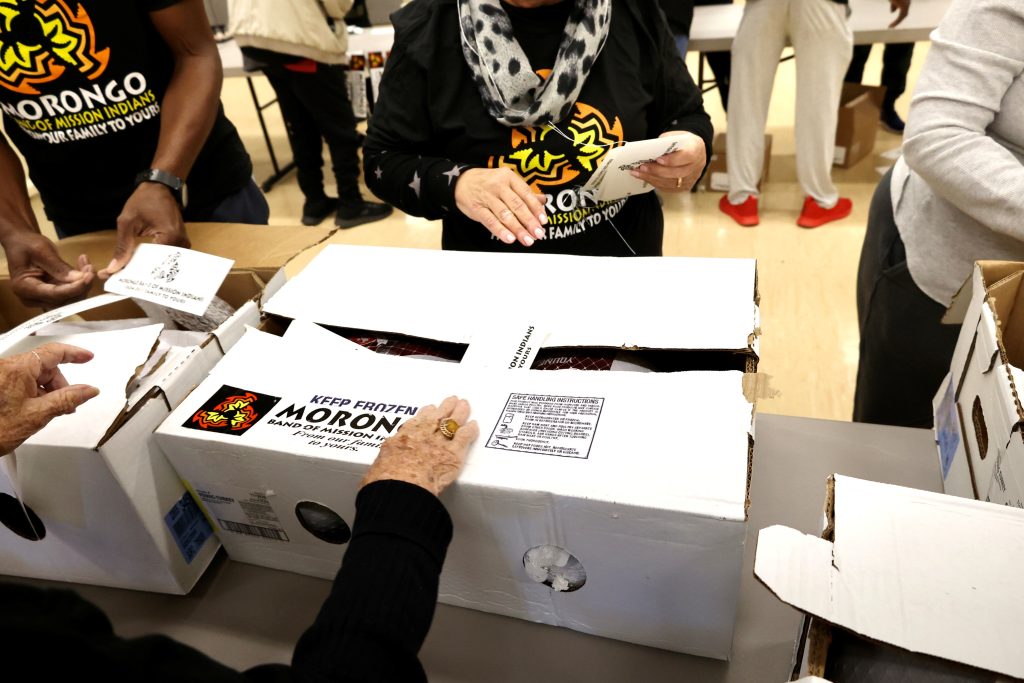 "Morongo's generosity brightens the season for our senior community, ensuring they can enjoy special and nourishing meals this holiday season," said Danielle Nelson, Executive Director of Janet Goeske Foundation in Riverside. "Morongo's commitment to enriching the lives of our seniors is truly heartwarming."
"Morongo's unwavering generosity enriches the lives of our military families, especially during the Thanksgiving holiday when some veterans struggle," said Todd Sieja, President and CEO of the Western Eagle Foundation in Temecula. "Year after year, Morongo's support ensures that our veterans can share a delightful Thanksgiving feast with their friends and loved ones."
Other non-profit groups who received turkeys included the Los Angeles Mission, Victory Outreach in Banning, St. Elizabeth of Hungary Food Pantry in Desert Hot Springs, and Carol's Kitchen in Beaumont, among others.
Thousands of veterans and military families have benefitted from the tribe's Thanksgiving Outreach program with turkeys donated to the VFW Post 1956 in Menifee and the Ysmael Villegas Memorial VFW Post 1984 in Riverside.
To receive turkeys, participating groups submitted applications to the Tribe and were notified over the summer that they had been selected. For organizations interested in receiving turkeys next Thanksgiving, applications for next year are due in Spring 2024.